Choose the perfect toilet
On average, we go to the bathroom about six times a day; So it is important to choose the right sink for your preferences and needs. We have asked our commercials of toilets, distributor and retailers of well-known brands of sanitary ware and accessories, some questions to help you have a better idea of ​​what to look for in buying a sink and  how to  choose the perfect toilet.
What types of toilets can we find?
There are two main types: toilets that are mounted on the floor and toilets hanging on the wall (which, as the name implies, are attached to the wall). For the latter, the load of the cup and the user are transferred to a support frame that is hidden behind the wall.
The type of WC you choose will be determined according to the type of pipe you have at home.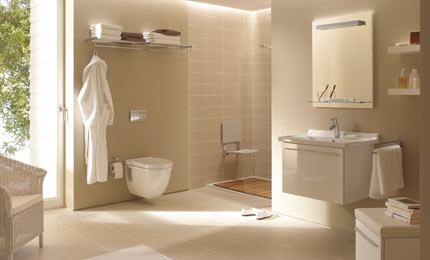 What kind of channeling do I have at home?
Find out the distance of the trap (the distance from the center of the discharge outlet on the floor to the wall) in this way you can determine which models fit the dimensions. For homes with discharge outlet on the wall; You have the option of selecting a toilet hanging on the wall (which can only be used with these traps).
Wall hung toilets are increasingly popular; since they create an unbridled appearance since they are not so bulky, they also allow cleaning the bathroom floor more easily. This can be key to choosing the perfect toilet.
What is a hidden cistern?
It is a water tank fixed to the WC and hidden in the wall, above the support frame of the WC (we will also call it a frame).
Some owners require models that have concealed cisterns because the trap distance is too far for the WC unit to install directly on the wall.
What are the flush systems that I can choose?
Dual or double discharge tank means that the toilet has two water discharge buttons: one for solid waste and one for liquid waste. The two types of waste require different amounts of water to clean effectively and a double flush toilet allows you to use only the amount of water needed and save a lot of it.
Reducing the use of water in your home is easier than you think. If you are thinking of renewing your toilet, it would be a good option to install the two download alternatives. Where you will not only save money but also help take care of our drinking water.
With this information, you will already have a slight idea to make the selection.
Visit our showroom to choose the perfect toilet; or ask us for more information on How to choose the perfect toilet, you will find brands such as:
Porcelanosa
Catalano
Roca